This stylish and sophisticated Nile cruise boat offers exceptional luxurious surroundings and guestrooms. The attention to detail and finish are superb. Built to a stunning design with large panoramic windows, offering magnificent Nile views, this cruiser is in a class of its own.
The interiors are spacious and modern, offering contemporary comfort and laid-back luxury. The bar on the Bel Air Deck, with its relaxed ambience, is the place to meet after a busy day's sightseeing. Meals are served in the Nile Avenue Restaurant on the Nile Deck, which offers international food and local specialities prepared by skilled chefs, and served as a grand open buffet. Dinner is served à la carte in the evening. The sun deck has a small swimming pool and jacuzzi pools, with plenty of day beds and sofas to soak up the sun or simply admire the views from under a shady canopy.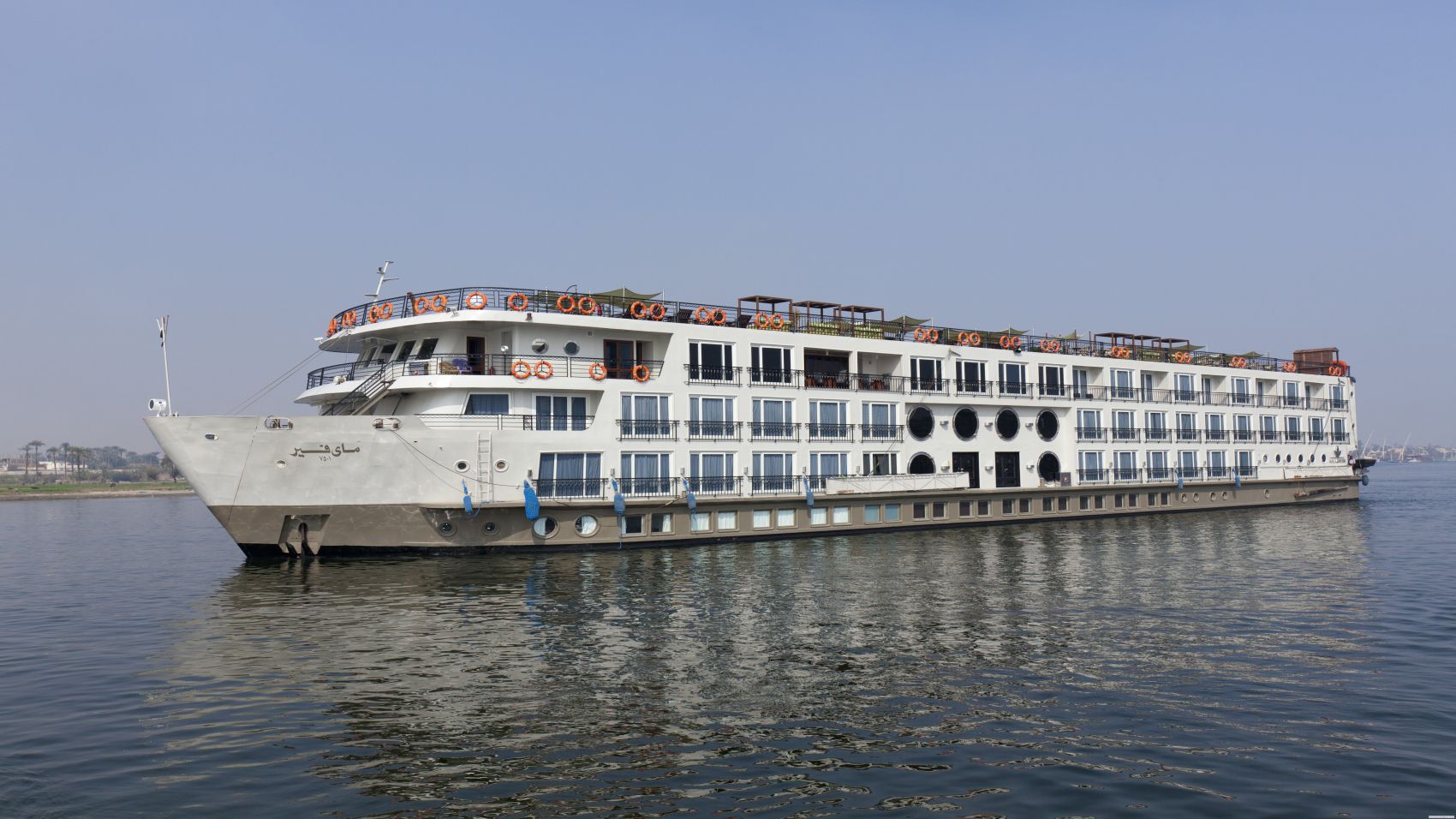 Facilities
MS Mayfair is available on a Full Board basis.
Main restaurant
2 bars & Salon
Library, table games and business corner
Gift shop
Hairdresser
Spa (Steam, sauna with aromatherapy & Massage)
Sun deck with swimming pool & 2 Jacuzzis
Evening entertainment
Dining
The Nile Restaurant offers a local and international menu and serves breakfast, lunch and dinner.
Upper First Salon – serves afternoon tea
Bel Air Deck Lounge Bar
Dress Code: Casual for breakfast and lunch and more formal for dinner
Rooms
he Mayfair has a range of cabins to choose from including:
Standard Cabins
Cabins with exterior balcony
Single Cabins
Executive cabins
Executive cabins with exterior balcony
Presidential suites with separate living area
All rooms have:
Bathroom with bathtub with overhead shower
Hairdryer
Air conditioning
LCD TV with marine satellite channels
Fridge (not stocked)
Safe
Large panoramic windows
Phone
Tea & coffee making facilities
Internet connection (when docked)
7 Night Nile Cruise - Example Itinerary
A cruise on the Nile is a unique opportunity to view day-to-day rural life in the Nile Valley, complemented by grand monumental architecture and ancient cities giving the visitor the insight into not only ancient times but also the modern. A relaxing Nile cruise in luxurious surroundings alongside all that ancient Egypt has to offer is the perfect combination for a memorable holiday.
Day 1
Transfer from Luxor International Airport to your 5*cruise vessel. Dinner and overnight stay in Luxor.
Day 2
Early breakfast followed by a visit to the West Bank where you will see one of the most striking vistas in Egypt. Here ancient meets modern day living before giving way to the Valley of Kings originally known as the 'Gates of the Gods' where pharaohs are entombed in the nearby cliffs, the Valley of Queens originally named the 'Place of Beauty' but renamed the 'Gates of the Harem' which contains nearly eighty tombs including the truly beautiful tomb of Queen Nefertari the favourite wife of Ramses II, the Temple of Hatshepsut, a series of terraces which appear to be part of the limestone cliffs rising out of the desert sands, Medinet Habu, the Arabic name for the Mortuary Temple of Ramses III, a huge complex second only to Karnak in size and well better preserved and the Colossi of Memnon which have for centuries held mystery and intrigue. Lunch on board followed by leisurely sail to Esna. Dinner and overnight night stay at Esna.
Day 3
Breakfast and morning at leisure. Lunchtime sailing to Kom Ombo to visit the Temple of Sobek, the crocodile god and Haroeris the good doctor. This fascinating temple is divided into two and overlooks the Nile. Dinner and sail onto Aswan for the night.
Day 4
Breakfast followed by a visit to the High Dam in Aswan constructed in 1960-1971 to ensure that Egypt continued to flourish and it provides electricity to all the villages along the banks of the Nile. The tour continues with a visit to the Unfinished Obelisk which was originally commissioned by Queen Hatshepsut for the Karnak Temple, lying rooted to the bedrock of pink granite. Finally the tour finishes with a visit to the magical Temple of Isis on Philae Island. Lunch followed by a relaxing and enjoyable boat trip around Elephantine Island sailing to the Botanical Gardens on General Kitchener Island. Beautiful plants imported from Africa, India and the Far East can be viewed and admired. Optional tour to the Nubian village is available in the afternoon. Alternatively, maybe the sun deck calls. Dinner followed by evening entertainment provided by the Nubian folk show. Overnight stay in Aswan.
Day 5
Early morning optional excursion to the ancient wonder of Abu Simbel by air/road available, priced at *£180.00 pp or by road at *£65.00pp.This impressive site built by Ramses II to show his strength and power, stands on the edge of Lake Nasser. Alternatively, a relaxing morning on the sun deck may better suit. Lunch followed by a leisurely sail to Esna. Overnight at Esna. Dinner followed a traditional Galabiya party where guests are invited to dress in Galabiyas and join in the fun.
Day 6
Breakfast followed by a visit to the partly excavated Temple of Khnum at Esna, dedicated to the ram-headed god Khnum, who was the patron god of the cataracts. He is said to have fashioned mankind from Nile clay on a potter's wheel. At this temple beautiful astronomical ceilings and the zodiac register can be seen. Lunch with an afternoon sailing back to Luxor. Dinner and overnight at Luxor.
Day 7
Breakfast followed by a tour of the East Bank with a visit to Luxor Temple, originally joined to Karnak by an avenue of sphinxes many of which can be seen today. Followed by a visit to Karnak the 'World's Greatest Open Air Museum' which covers a huge area and includes several temples, the largest being the Temple of Amun with boasts marvellous attractions at every turn. Lunch and leisure time with the opportunity to visit the Luxor Museum. Dinner and overnight in Luxor with an opportunity for an optional Karnak Sound and Light show priced at *£22.00 per person.
Day 8
Breakfast followed by check out and transfer to Luxor International Airport for your return flight home.
Please note: the order or content of your itinerary may be amended due to lock closures, low water levels or any other unforeseeable circumstances. Due to the large numbers of cruise boats on the Nile, when docked in Aswan and Luxor it is highly likely that other boats will moor alongside your boat. Occasionally, due to operational difficulties, a change of vessel can occur. However, the sightseeing itinerary will remain the same. Traditionally, a tip is expected at the rate of £4.00 per person per night which includes coach drivers, bell boys, housekeeping staff, engine crew and bar/restaurant staff. Additional tipping is not expected.

RESERVATION ENQUIRIES